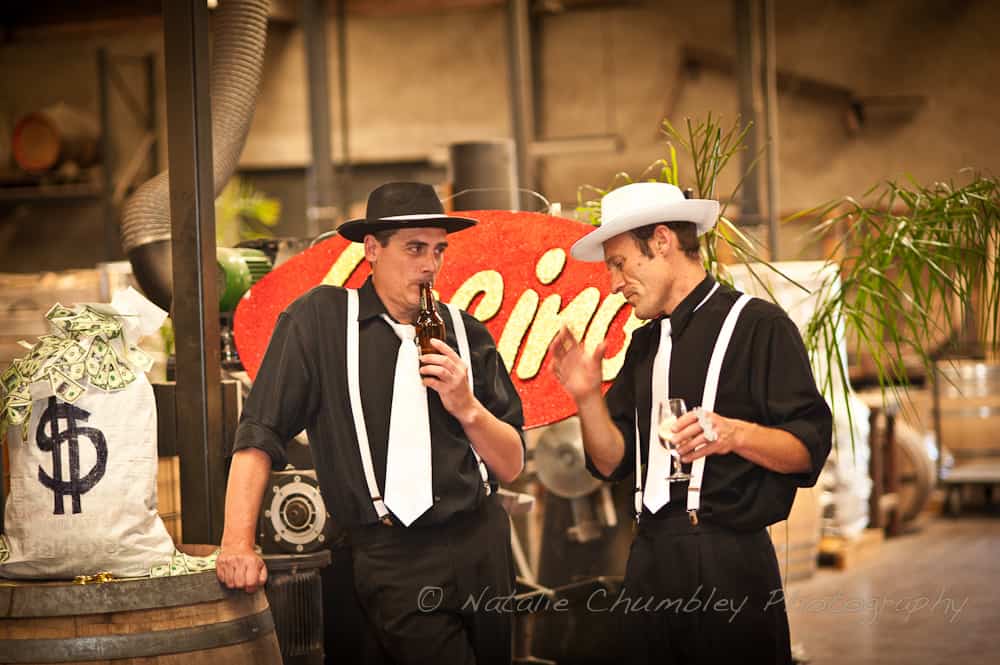 Hold your own 1920s themed party
The 1920s is always a popular theme, even more so since The Great Gatsby movie was remade and the popular HBO show Boardwalk Empire came out. A 1920s themed party is a great option for a fun casino night as you can create your own gambling den or speakeasy and get your guests to come as gangsters and molls as pictured here at the Yalumba Christmas Show.
How far you want to go with the theme is completely up to you, and there is an abundance of information and ideas on the internet to help you out. We've included a few links below that contain ideas for everything from the invitations to what drinks and food to serve on the night. Also be sure to check out our 1920s party ideas board on Pinterest at https://www.pinterest.com/AceNights/1920s-party-ideas/
A few tips we always give people when hosting a 1920s themed party or any themed night are:

Give people notice. If you want people to dress up you need to give them enough time to organise a costume.

Designate someone to take photos for you. If you don't do this then it will come to the end of the night and you won't have any pictures to remember your fantastic event with.

Don't be afraid to give people jobs to help you out on the night. People don't mind and it will give you more time to spend with your guests and enjoy your party.
Links to some ideas for your 1920s night:
https://www.dinnerandamurder.com/themes/1920s.htm
http://insidethecostumebox.blogspot.com.au/2010/11/hosting-1920s-theme-party-tips-to-make.html
https://holidappy.com/party-planning/Hosting-a-Roaring-20s-Party